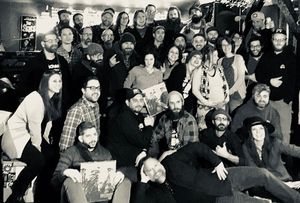 Our record, "Basilisk", celebrated its first birthday this month.  It's crazy that it's only a year old; it seems like it's been a decade since we were first putting the songs together in the basement.  Yet here we are - a year older, a small handful of our first pressing still waiting to find their new homes, and stuck somewhere between our last record and our new record; it's bittersweet, really. 
Music is a fickle and often unforgiving pursuit.  It's a black hole for money and time, constantly making you question yourself and your abilities, and, no matter how intently you pore over your words and delight in how clever you are in your turn of phrase and lay bare your deepest insecurities and heartache, someone can dismiss your hard work with a wave and a "Meh".  It's brutal and grueling and disheartening, and I couldn't love it more.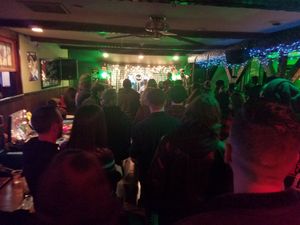 "Basilisk" was ostensibly my life's work at the point it came out.  All of my years on earth playing music and writing songs were distilled into those ten songs.  Every trick I had learned made an appearance; everything I wanted to say found a line.  These songs had grown inside me, and now they had finally been cut out and pressed into a twelve-inch vinyl disc.  What came next was uncertain.
And so we carried on.  We began to chip away at the block to reveal new ideas hidden inside.  I found some old wounds to reopen to mine for stories of bad luck and bad decisions.  Our music began to shift with the tone of the world - the Americana-tinged storytelling gave way to riskier, more bombastic arrangements and oblique sentiments.  We became more empowered to be fearless in honesty and authenticity when everything had devolved into lies and vacuous homogeny.   
That's the thing about musicians: we're used to a world trying to crush us.  That's why we can look it in the face and say, "No."
** "Basilisk" is still available on CD and digital.  We are currently at work on a new podcast that will begin airing later this year - stay tuned here for details - and will be recording an EP this winter.  We love you xoxo TAP **