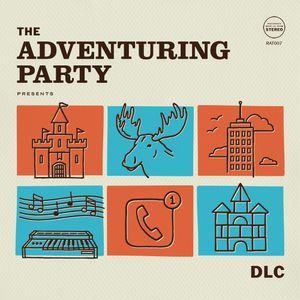 Back in the Before-fore in February of 2019, we started work on recording an EP.  It came about because in the year after releasing "Basilisk" we were starting to get into the groove since we'd been playing those songs together for a while at that point.  "The Magnus Organ" especially took on new life when Matt came to us with the idea of fleshing it out from a sad, acoustic song into a lush, harmony-laden epically sad song.  In that time, we started all writing together and "Castlemania" was born.  Jay had the idea to rework "Moose II", Brian wanted to cover "Skyscraper", and we welcomed Turanno into the band.  We ended up with a hodgepodge of new(ish) material that didn't really fit anywhere.  Then we found out Matt's parents were going away for the weekend.
On Friday afternoon, we packed up Matt's studio and relocated it to Maureen and Jock Logie's house on the lake.  We spent the night creating a live room in their vaulted ceilinged living room - running cables in and out of rooms, up and down stairs, dangling them through the rungs of the balcony railing all the while kickstarting the studio traditions of crushing beers and gobbling up junk food.  When the Tecate and Twizzlers dust settled, we were wired for sound.  So then we passed out and got to work first thing in the morning.
We spent the rest of the weekend recording four songs.  We packed up the studio, set it back up at Matt's house, and let the whole project sit for a little while.  We weren't really in any rush to put it out; at this point, "Basilisk" was still pretty new to most people.  We would get together periodically for the next year and chip away at adding to what we tracked at the Logies' house - maybe do some vocals on a couple songs this week, some more guitars the following month, put it down for a little while and then go play shows for a few months... We figured we could continue this way for as long as we wanted.
We all know what happened next.  
During the time we weren't able to spend together, Matt started mixing everything we had done.  As he sent us the mixes, it started becoming clearer and clearer that we had something special on our hands.  We had discussed what to do with these recordings once we finished, and it changed over time.  At first we were going to do "Castlemania" and "Skyscraper" as a 7" and then put the rest out digitally.  Maybe we'd just put it up on streaming services and be done with it.  Maybe this, maybe that.  Then Brian wrote one more song.  "A Voicemail..." was about what we were all going through in that moment and we agreed that we needed to record it for this EP.  One at a time, we tracked our parts at Matt's house (safety first, you guys).  We used Brian's demo recording as the template and went for it.  We had never even played the song together (and we still haven't - the closest we've gotten is playing along to the recording during the video shoot), but it came together effortlessly.  At this point, we decided, we may as well just put the whole damn thing out on vinyl.
The sneakiest track of all though was "Super Castlemania".  Jay took it upon himself to arrange and record a chiptune version of "Castlemania" for fun, and once we heard it, we realized that what we were making was essentially an add-on package to "Basilisk".  It wasn't a whole new adventure; it was a companion piece.  It was DLC.  In deciding how to release it, Matt came to us with a simple solution: he had been looking for a vehicle to revive his old label Rat House Records, and this would be his triumphant return.  We tried to talk him out of it, I promise, but he is very stubborn.
We're thrilled to be releasing this.  It has been an unbelievably cathartic experience to have worked on putting this together during the last year.  We really hope you like it.  xoxo TAP
Preorder DLC here.