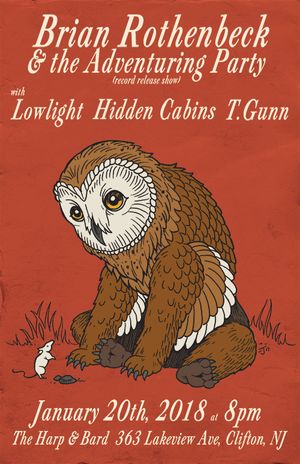 We're so happy to finally announce our new record! "Basilisk" will be arriving via Black Numbers on January 19th, 2018! I can't thank Dave enough for taking us on and giving us an absolutely beautiful LP! Take a peek at it (and get yourself a preorder while you're at it) over here.
Secondly, You Don't Know Jersey's Brian Erickson wrote a very nice piece about our first single "The Complete Guide to the Fucking Obvious" and premiered our video on their site right here!
Penultimately, we added some new tees to the webstore! We got a brand new design, and are still selling our old designs for stupid cheap! Get your mitts on one!
And finally, we also announced the record release show today. Join us January 20th at the Harp & Bard in Clifton, NJ with our dearest friends in Lowlight, Hidden Cabins, and T.Gunn as we welcome this baby into the world! Details can be found via Facebook here.
Thank you to everyone who helped us on our announcement day, everyone who shared our stuff with their friends, and everyone who made this record possible. I am truly, truly grateful to you all!